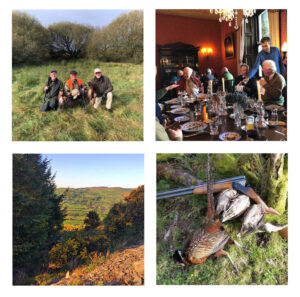 A Once in a Lifetime Event
Game Hunting Ireland is orchestrating a world-class shoot for pheasants, partridge, ducks and more. Join us January 8-12, 2023, for 5 nights and 4 days of driven birds, walk-up pheasants with dogs and wild-duck shooting. Space is limited to 10 Guns, so reserve your spot today! Stag Hunting
To experience a Red Stag Trophy Hunt hrough the rugged and mysterious landscape on the West of Ireland is one of the most thrilling hunts in the world. We at Game Hunting Ireland can take you there… Wing Hunting
Wether it be Woodcock, Pheasant, Partridge or Snipe or a combination of your choice, you can meet up to 40 or 50 birds on any given day. Your entertainment guaranteed. Stay in the Castle
Live like a King for the duration of your stay, at the 5 Star Dromoland Castle
there's no escaping the sense that you are walking in the shadows of kings.
Game Hunting Ireland can take you there…
Welcome to Game Hunting Ireland
Game Hunting Ireland is owned and run by Kevin Lynch and his partner Marie Keogh, with Marie taking care of the general admin and day-to-day running of the business. Kevin has been hunting his entire life making it a perfect fit for him to be working in a field that has been his life's passion.
Our goal is to provide our clients with the very best of what hunting has to offer in Ireland. Specialising in wing hunting and big game stalking, covering Red Deer, Sika Deer, Fallow, Ibex and Multi Horned Sheep. We also have Pheasant, Partridge, Duck, Woodcock and Snipe. Our Summer packs include Bolting Rabbit, Pigeon and Crow which can work seamlessly with our selection of Top Class Fishing opportunities for Cast & Blast enthusiasts.
Here at Game Hunting Ireland we aim to provide our clients with great hunting and hospitality in a friendly and relaxed atmosphere. We will plan your adventure to suit you and your fellow hunters, tailoring your trip from hunting to touring Ireland in all her glory so please feel free to email us with any enquiries you may have.
ONCE EXPERIENCED – NEVER FORGOTTEN
The Right Choice
For years I wanted to hunt Ireland but finding the right outfitter, especially thousands of miles from home, can be challenging. I made the right choice in hunting with Kevin and Marie at Game Hunting Ireland. Kevin is a true professional who offers the very best of all things Irish hunting. From planning and customizing your trip, to every day of your hunt, Kevin works incredibly hard to personally deliver a first-class experience. You will be welcomed as family with warm hospitality, humor, great food and lodging. Having lived right there his entire life, Kevin's direct knowledge of the mountains, hills, bogs, and forests along with the wild animals that live there, is remarkable and he will do everything to put you in the best spot. And when you can actually feel the deep roar of a red stag in your chest, hear the high-pitch whistle of a sika, or stalk into the repetitive grunting of a rutting fallow buck, you will know this is a truly unique hunting experience unlike anything in North America. I am already looking forward to my return trip.
Aaron M.
Colorado, USA
A Dream Come True
Going to Ireland has always been a dream of mine. I starting hunting in 2019 so when I decided to go to, I figured it would be fun to hunt while I was there.
When I found Game Hunting Ireland, I sent an email and received a phone call from Kevin within an hour.
With Kevin's help I put my package together and prepared to go. Any questions I had over the next several months were answered immediately.
I had never been out of the country let alone gone on a guided hunt. Kevin made everything so easy. I was never afraid that my time in Ireland or my hunt would be anything but perfect.
Kevin and Marie made me feel so very welcome. The cottage was warm, cozy and beautiful. Marie came to the cottage on the mornings we were hunting and fixed breakfast.
Not only did I get my Beautiful Fallow Buck, I added an Ibex thanks to Kevin amazing guiding skills.
I can't wait to go back and hunt with Kevin and give him more grief. (Craic)
Dona Larimer
(Moscow, ID USA)
Great Experience
Kevin and Marie provide a great experience in an amazing part of the world – they make you feel like old friends from the moment they collect you from the airport and Kevin has a wealth of stories that will keep you entertained for the entire trip. Kevin is a very experienced hunter and his hunting knowledge is second to none. You will experience some of the best free range deer hunting in Ireland with Game Hunting Ireland and Kevin works hard to provide clients with the best opportunities for success. I thoroughly enjoyed my trip with Game Hunting Ireland and I'm very much looking forward to hunting with them again in the future.
Aaron
New Zealand
Entertained Throughout
The entire time spent with Game Hunting Ireland was an incredible experience.  We arrived excited for our hunt and in awe of the beautiful countryside; we left completely satisfied with our hunting experience and feeling like we were part of the family.  Kevin and Marie were incredible hosts that ensured every need was looked after.  The accommodation was well above our needs and expectations, a quaint and charming cottage with modern comforts.  The hunt itself was challenging, beautiful and frankly I hope to be able to do it again one day.  To say Kevin has a thorough knowledge of the local area would be a drastic understatement, he knows the hunting grounds like to back of his hand.  He consistently put us in position to have good opportunities to see animals.  Also, his hunting and fishing and Irish history stories kept us entertained throughout the day.  I would recommend Game Hunting Ireland without hesitation to anyone looking for a proper big game hunting experience in the beautiful country of Ireland.
Michael Riley
California
Contact Us Today
If you have any questions or enquires, you are very welcome to contact us. We will be happy to help.